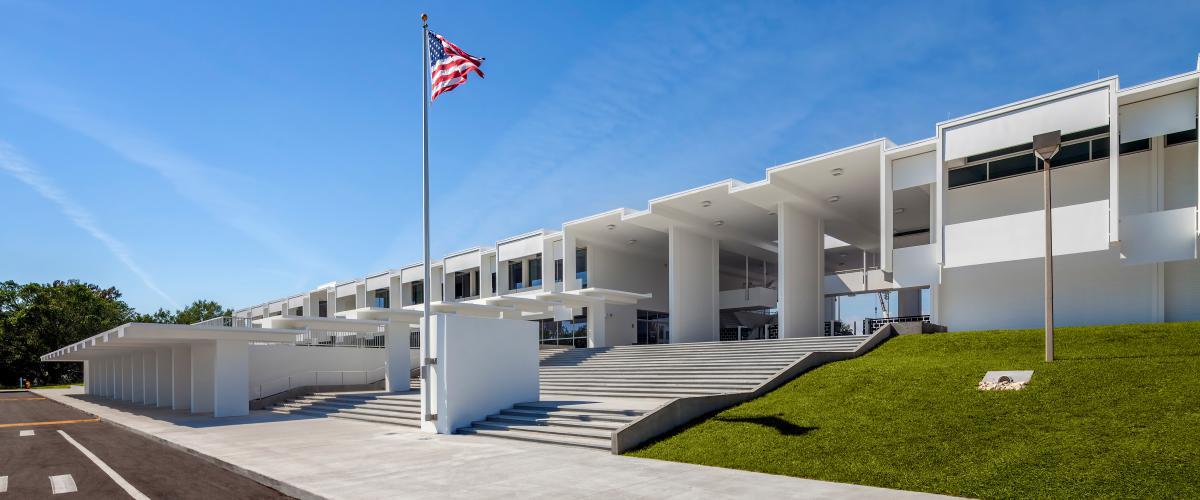 Sarasota High School's Building 4, designed in 1958 by Paul Rudolph, is being renovated by the school district to both restore the original exterior appearance of the building and create a "21st Century Learning Environment." The pure white color is being restored, a project that is partially complete at the time of this photograph.
Tandem Construction, a Sarasota County School Board Approved Construction Manager, is currently completing the first phase of work at Sarasota High School. The first phase included the renovation and restoration of Paul Rudolph's historic breezeway (Building 4), that has now been repurposed as the Administration Building and Science Building for Sarasota High School. This first phase of work included:
Stabalizing a droopy foundation and a cantilevered roof
Installing new plumbing, eletrical wiring, air conditioning, security and communication systems, and replacing conduits that had been attached to interior and exterior walls
Restoring the original roofline, which had been altered in an attempt to improve rain water drainage
Removing vegetation near Building 4 that had blocked the building for decades (From Bahia Vista)
Working around the 2,000-member student body, a task that will get more difficult as construction crews move on to phases two and three of the project.
---Sarasota Herald Tribune, October 4th, 2014 Issue, Written by Harold Bubil
Read the full article HERE