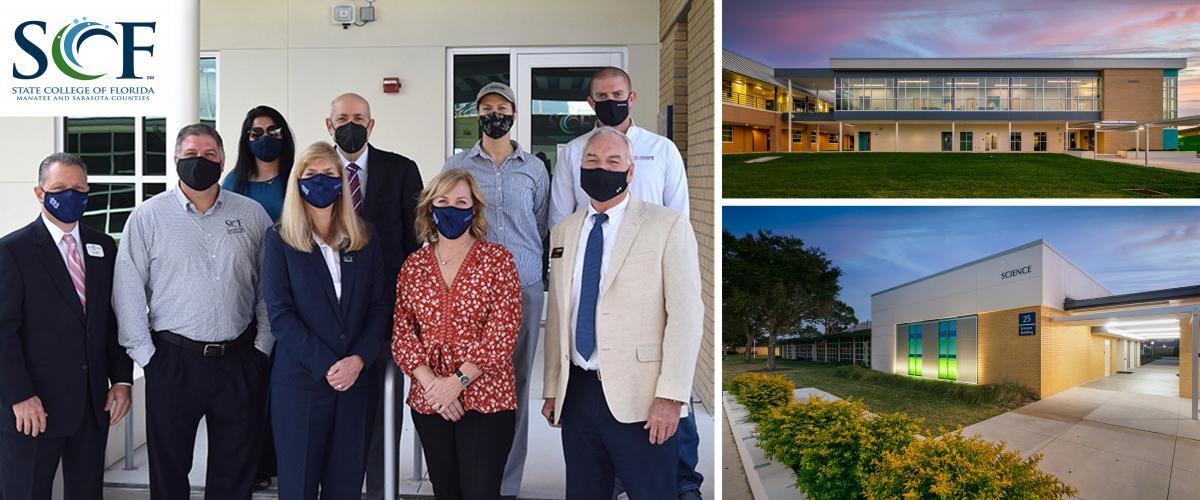 (Bradenton, Fla., Feb. 26, 2021) — State College of Florida, Manatee-Sarasota (SCF) celebrated the opening of its newly renovated science building 25 and its newly added building 25A with a ribbon-cutting ceremony on Wednesday, Feb. 24, at SCF Bradenton. The ceremony began with a welcome address from SCF President Dr. Carol F. Probstfeld. Josh Schulte, department chair, natural sciences; Jose Ors, assistant professor, natural sciences; and Matt Connell, dean, nursing and health professions also shared remarks.
Building 25, at 20,400 square feet and one of SCF's oldest and most used academic buildings, was thoroughly renovated during the construction of building 25A. Primarily used for the natural sciences department, courses administered in this building include the biology, chemistry, health science and physics tracks, as well as SCF's exciting biotechnology program, which offers immersive experiences to prepare students for biomedical research, commercials labs and other applied areas of cutting-edge science.
"The renovations and addition allow SCF to meet its mission to respond to the needs of our community for highly educated and trained STEM graduates," said Probstfeld. "This project also increases our capacity to serve our community and students with the outstanding facilities they deserve."
The new science building of 11,900 square feet includes a faculty office suite and a 55-seat lecture hall on the first floor; two labs, a lab prep room and a classroom on the second floor. The renovation of building 25 included new finishes, furniture, lighting, audiovisual and HVAC upgrades, full restroom remodels, front entrance and breezeway enhancements, and landscaping.
To learn more about the new science building 25A and its offerings, contact Jamie M. Smith, director of communications and marketing, at SmithJ4@SCF.edu.