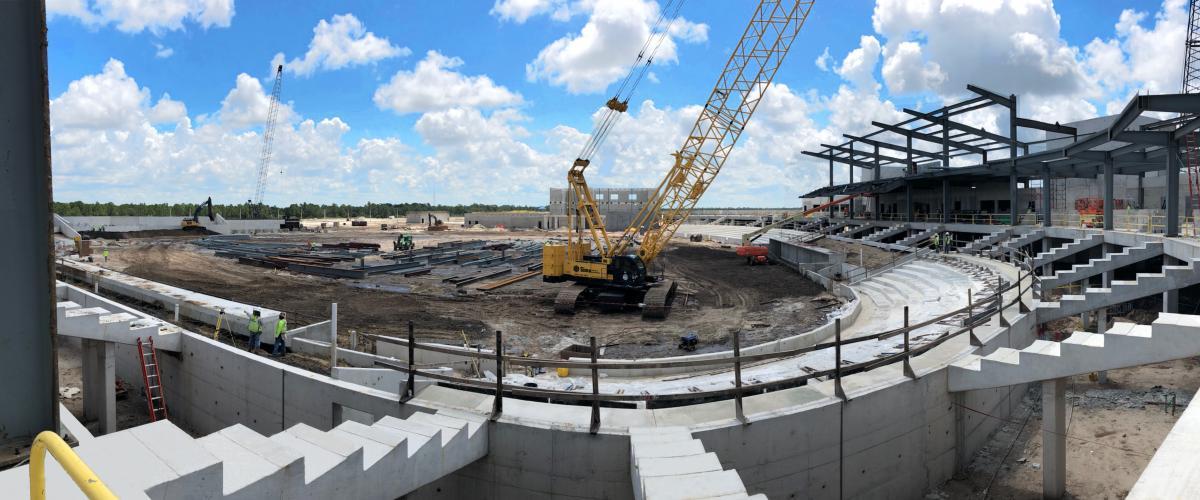 The $125 million Atlanta Braves Spring Training Facility is beginning to become more of a reality. Tandem Construction and Barton Malow have managed to maintain a tight schedule despite recent conditions with days of heavy rain pour by utilizing more than 300 men and women day and night on this complex. "When you have multiple cranes on a site, you know stuff is going this way," Mike Dunn, Vice President and Director of Florida Operations for the Braves, said while making a vertical gesture with his right hand.
The current goal is to have the stadium open to the public for the final spring training game in 2019 and being operational later that summer for extended spring and Gulf Coast League games. This coming Saturday, June 16th, the Braves will be hosting a Season Ticket Launch Party from 9 a.m. to 1 p.m. at the George Mullen Activity Center, 1602 Kramer Way, in North Port. This is a great opportunity for fans to get a sense of perspective from different sections of this prestigious stadium designed to accommodate up to 8500. Fans will be able to make deposits for season tickets, ask questions, and view displays of current stadium construction, all while enjoying complimentary donuts, coffee, pizza, and drinks.
Click HERE to read the article published in the Herald Tribune!