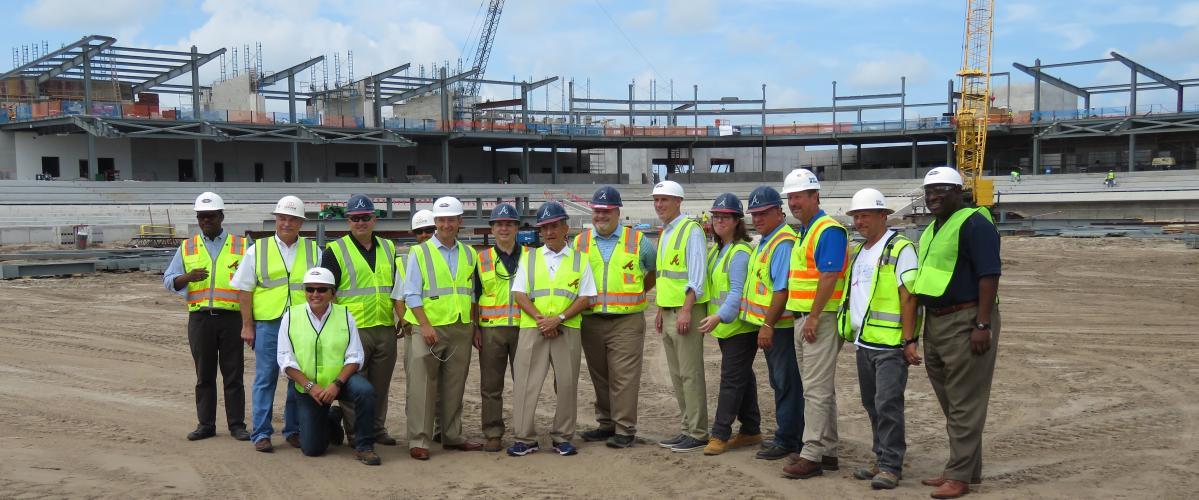 This Friday, July 20th, the Atlanta Braves hosted an astounding topping out ceremony to represent another magnificent milestone in the construction of the Spring Training Facility in North Port.
During the event those who attended from Tandem Construction, Barton Malow, and the Atlanta Braves had the opportunity to sign their names on the metal beam that will sit at the highest point of the brand new stadium. This tradition known as, "topping out," traces back over 1000 years to the Scandinavian times, where a tree would be placed atop the highest point of a new building. Fitting of the event and the Grapefruit League representing the team's training in Florida, a grapefruit tree was placed atop of this steel beam that was put in place today.
The event consisted of many guest speakers, which began with John Schuerholz, former General Manager and President of the Atlanta Braves. John emphasized on the magnitude and quality of this facility, labeling it as a, "championship winning facility." On behalf of the Atlanta Braves he stated the Braves are very excited to be training in the city of North Port another 30 years and possibly more.
Following John Schuerholz speaking was Len Moser, the Vice President of Barton Malow. Len went on to say how proud he was of the teamwork on this job and how much they have been able to accomplish over the 9 months since breaking ground on this site.
Commissioner Nancy Detert touched on baseball being an extraordinary economic driver for the state of Florida. To be able to house these training facilities in Florida stimulates our economy at such a high level impacting many citizens throughout this great state.
Vanessa Carusone, the mayor of North Port, welcomes everyone involved to the great city of North Port. She describes this training facility as another amazing milestone of so many milestones in the wonderful city of North Port. Vanessa also took an opportunity to thank Jeff Maultsby for all of his hard work in helping bring the Atlanta Braves to the city of North Port.
Lastly, the President of Mattamy Home's West Villages Division, Paul Erhardt was able to take the opportunity to say how excited he was to have this happening and he is thrilled to be a part of the team.
This event has marked another major milestone in the progress of this state-of-the-art facility, bringing us all one step closer to the completion of this much anticipated Florida home for the Atlanta Braves.
Aerials Click Here:  https://www.youtube.com/watch?v=OQ_RS2nxiRY&feature=youtu.be
"Take Me Out to the Ball Game" Click Here:  https://www.youtube.com/watch?v=Xg6EQkhfznI&feature=youtu.be)
Event Photography Click Here:  http://www.heraldtribune.com/photogallery/LK/20180720/NEWS/720009987/PH/1