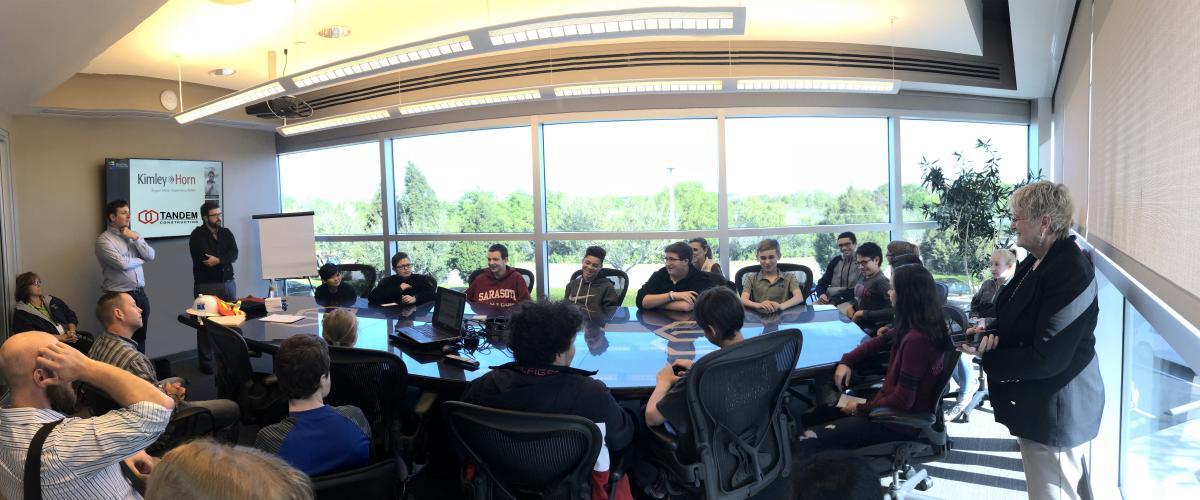 On Tuesday, March 13 2018, Tandem Construction and Kimley-Horn hosted a group of eighth grade students from the Sarasota Middle School Technology Student Association (TSA). These students, along with their Teacher, Michael Evans, participated in an educational workshop that expanded upon the experiences and career paths available with local Architecture, Engineering and Construction Management Firms.
The EdExploreSRQ Program is spearheaded by Effa Beauette and Judy Meksraitis, and is sponsored by the Education Foundation of Sarasota County. It offers an "Interactive Career Exploration Series" for 8th and 9th graders so their career interests can be aligned with programs in high school and beyond.
TSA is an international student organization created to develop skills in science, technology, engineering and mathematics as well as business education.  The middle school students mentioned above recently competed with both middle and high school students, scoring very high rankings for the state of Florida.
The Education Foundation of Sarasota County is an independent partner working to advance philanthropic support for Sarasota County Schools. Its mission is to enhance the potential of students, promote excellence in teaching and inspire innovation in education. Guided by the belief that education changes lives, the Education Foundation strives to match each donor's passion with high-impact projects created to ensure students graduate with purpose and are prepared for a post-secondary pathway. The Education Foundation of Sarasota County and its philanthropic investors are champions for students, teachers, and schools. For more information on how to be a champion for education, visit EdFoundationSRQ.org.