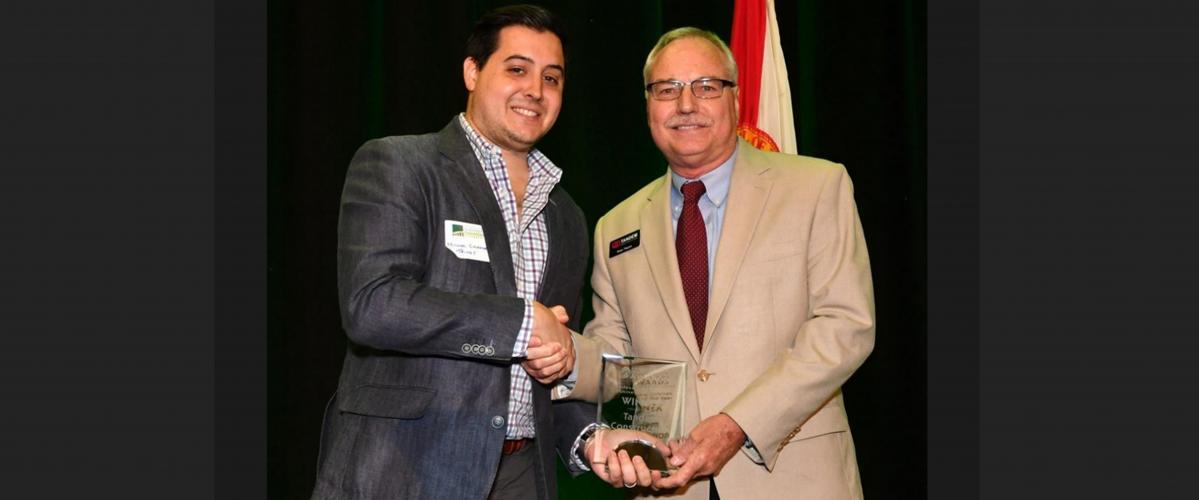 On Friday, June 15th, The Greater Sarasota Chamber of Commerce announced finalists at the 2018 Frank G. Berlin Sr. Small Business Awards held at the Hyatt Regency in Sarasota. This event recognizes the hard work and success of small businesses throughout all of Sarasota.
After enjoying a wonderful lunch and listening to the extremely amusing Les McCurdy, a very successful comedian and owner of McCurdy Comedy Club, the awards ceremony began. All of the finalists had their videos displayed on the large screen showing accomplishments, aspirations, and the culture of these exceptionally successful businesses.
Tandem Construction is honored to be the recipient of the Professional Services Business award. Tandem has had many recent successes that helped bring this award back to the office. Some of the projects displayed include the Sarasota High School renovation and expansion, Sarasota Ford, IMG Academy, Sarasota Yacht club, and the Atlanta Braves. The future is looking bright for Tandem as they strive to continue producing top quality results in their industry.
Read more about the Award Ceremony HERE.
See Tandem's video HERE.