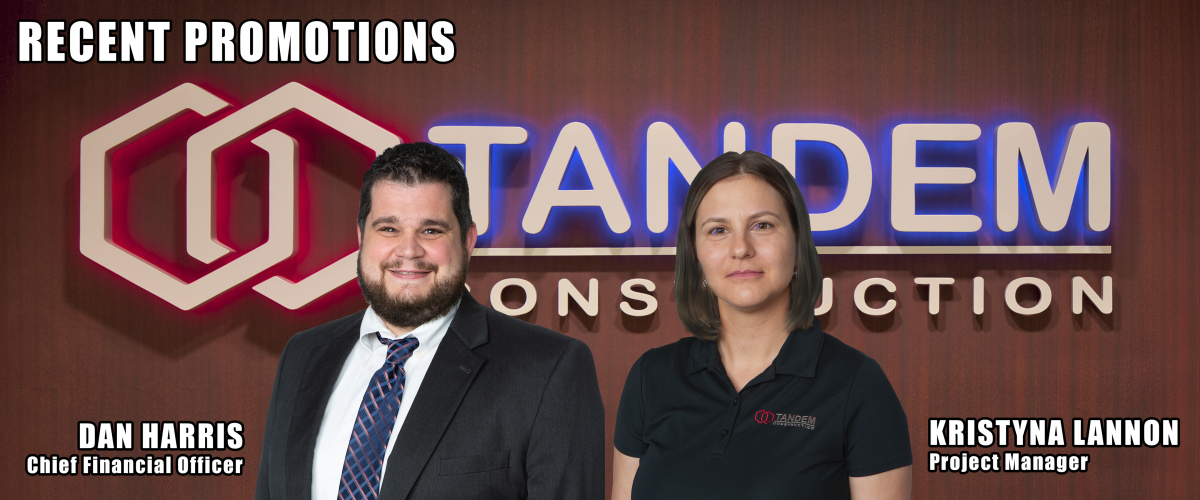 Tandem Construction would like to recognize and celebrate two promotions and several new hires for the company.
Dan Harris has been promoted to Chief Financial Officer. Dan is in his sixth year serving the company as the leader of the finance and accounting department. He started with Tandem as the Controller, utilizing his background as an Accountant and Tax Manager for Kerkering Berberio & Co. Dan is a licensed Certified Public Accountant (CPA) and a Certified Construction Industry Financial Professional (CCIFP).
Kristyna Lannon has been promoted to Project Manager. Kristyna holds a Ph.D. in Construction Management from the University of Florida and has served for 7 years as an Assistant Project Manager. Kristyna has played an integral role in delivering projects for the Atlanta Braves, State College of Florida, Premier Sports Campus at Lakewood Ranch, Dutchman Hospitality Group, and the Asolo Repertory Theatre. Kristyna will begin her new role as Project Manager overseeing the construction of a new state-of -the-art Science Classroom Building for the State College of Florida-Venice Campus.
Tandem Construction would also like to announce the addition of several new employees. Tandem has hired two new Assistant Project Managers, Sky Holmgren and Drew Madison, to serve on projects in Sarasota and Charlotte County. Sky is a recent graduate of Brigham Young University with a degree in construction management. Drew joins the team with a degree in mechanical engineering from the University of Dayton and a multi-year background in construction project management. The company has also hired a Superintendent, Kyle Layton, to support the field management team. Kyle is a second generation Superintendent with 5-years of experience delivering major projects in New York, Maryland, New Jersey, and Connecticut. Finally, Tandem has supplemented our administrative staff with new hires, Dianna Graham and Mia Connolly. Dianna joins Tandem as a project accountant. Mia is serving as the front office administrator.